January 22 - 2PM
Fredericton Heritage Trust
*FREE Upcoming Event | Heritage Buildings that Dodged Demolition*
Dear FHT members and friends,
2017 is quickly approaching and we have some pretty exciting events coming up!
To start it off, we will be partnering with local Historian Koral LaVorgna in January on a talk about Heritage Buildings that Dodged Demolition.
We would like to extend the invite to this FREE talk happening January 22 at 2:30pm at the Provincial Archives of New Brunswick.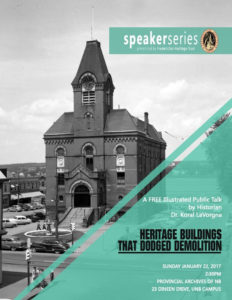 Heritage buildings caught in the crosshairs of progress and urban renewal have come under threat of demolition. Other significant buildings, perceived to have outlived their usefulness, have nearly succumbed to the same fate. In this talk, discover which historic buildings in Fredericton, at one point destined for destruction, managed to dodge demolition.
Fly solo, grab a friend or bring the whole family! All are welcome 🙂
« Previous