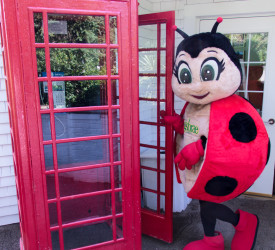 Kingsbrae Garden: Named Garden of the Year for 2013 by the International & Canadian Garden Tourism Council and Winner of 2011 "Top Five North American Gardens Worth Travelling For" award.
Kingsbae Garden is a magnificent public horticultural garden—27 acres with 50,000+ perennials in many themed gardens—in Canada's historic seaside resort town, St Andrews by-the-Sea, NB. Bi-Annual National Sculpture Competition, Interpretive guided or self-guided tours. Other features include a functioning Dutch windmill (l/3 scale), alpacas, peacocks, licensed Garden Café, Gift Shop & Art Gallery.
Fine Dining

Thursday

–

Saturday

by reservation only at Savour in the Kingsbrae Garden.
Twitter: https://twitter.com/kingsbraegarden
Instagram: https://instagram.com/kingsbraegarden/
You can check out their website here.
Notes: Open daily, Mid May to Mid October , 9am-8pm (check website for monthly hours of operation). Driver/escort free. Tradesmart certified; dedicated motorcoach parking.

Twitter @KingsbraeGarden
| Monday | Tuesday | Wednesday | Thursday | Friday | Saturday | Sunday |
| --- | --- | --- | --- | --- | --- | --- |
| 9am - 8pm | 9am - 8pm | 9am - 8pm | 9am - 8pm | 9am - 8pm | 9am - 8pm | 9am - 8pm |
220 King Street, St Andrews, NB E5B 1Y8
1-866-566-8687 or 506-529-3335
« Previous