Central New Brunswick Woodmen's Museum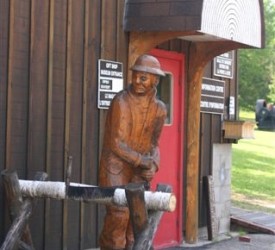 The Central New Brunswick Woodmen's Museum is located in the Geographical Centre of the Province of New Brunswick, at Boiestown.  Situated in the heartland of the lumbering industry, this 15 acre site provides insight into the vibrant and colorful lives of the woodsmen, their families, and the community.
Journey back to earlier times, when Boiestown was a "bussling" lumbering town and the lumbermen carved a living from the forest; meanwhile, raising their families here on the Upper Miramichi.  When, "Emily Allain" was Boiestown's (one line) Telephone Exchange Operator and many a traveller spent the night at "Duffy's Hotel".   The "Whooper" Train rattled the rails from Miramichi to Fredericton, and passengers travelled from Doaktown to Boiestown to the Forester's Hall for dances and theatre shows.
Workers came from the Acadian areas, Quebec, Prince Edward Island and Nova Scotia to become a part of the lumbering boom. Some settled here; while others made it their final resting place.
Visit our website for more information.
6342 Highway 8, Boiestown NB, E6A 1Z5
506-369-7214

« Previous