Lutz Mountain Heritage Museum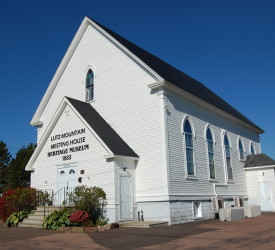 Built in 1883, the Lutz Mountain Meeting House was known as the "Second Baptist Church" of Moncton. Since 1975 it has served as Lutz Mountain's community Heritage Museum. Artifacts tell as much about people as the written word. Step into the past as you enjoy displays of garments, quilts, household implements, tools, even a school room – proud memories of a bygone era. If you are interested in family research, we have census, marriage, cemetery and genealogy records from 1770 to 1901, as well as local stories and newspaper clippings.
The Lutz Mountain Meeting House is located at 3143 Mountain Road, Moncton, just 2 minutes north of Magnetic Hill. Take Exit 450 and follow the Museum "M'' signs.
Hours of Operation Starting June 13, 2023
Tuesday-Saturday 10am-5pm
September
Monday-Friday 9am-5pm
Off-season: Tours by appointment.
3143 Mountain Rd. Moncton, New Brunswick, E1G 2X1
506-384-7719

« Previous