2017 AHNB Conference
Palais des Congrès d'Edmundston
November 1-3, 2017
GREAT NEWS!!!
REGISTRATION DEADLINE NOW OCTOBER 7TH
SAME TIME AS HOTEL DEADLINE
REGISTER NOW!!!!
GREAT NEWS!!!!
We will have simultaneous translation during
both streams of presentations at conference.
Follow this link for the Museum and Built Heritage
 programs of the Conference events!
There will be a Program in booklet form
available in your delegate bags.
We hope to see you at conference. Register Today!!!
We are grateful for your generous donations
______________________________________________________________________________________________________
ACCOMMODATIONS
Four Points by Sheraton
in Edmundston, NB
Hotel Conference Rates: $110.00
DEADLINE FOR GREAT HOTEL RATE IS OCTOBER 7TH
Please mention that you are with "AHNB" or "Association Heritage New Brunswick".
AWARDS
We will be recognizing 6 award recipients at our Banquet and Award Ceremony on Thursday, November 2, 2017. Thank you once again for your submissions.
PROGRAM
Wednesday November 1 departure at noon on the dot
Museum Tour to Saint-François/Edmundston
Ledges….Place des pionniers, Salle du 150e et Musée Forge Jos B. Michaud
Musée historique du Madawska
As a gift during our visit the Musée historique du Madawaska will offer for free three wonderful books of which two are published by La Société Historique du Madawaska. They will also give us a tour of their collection.
Wednesday November 1st at 3 pm
Tour of Edmundston's architecture – Architect and historian John Leroux will lead the conference attendees through a very hands-on tour that will visit the architectural monuments of Edmundston, partly by bus and partly on foot. Edmundston is a city that, perhaps surprising to some, boats some of the most adventuresome and impressive 20th century architecture in the province. From the institutional grandeur of the College St.-Louis to the structural heroism of the local library (formerly a brutalist 1960s concrete church) and Notre-Dame-des-Sept-Douleurs catholic church, to the decorative styling of the nearby orphanage and downtown Cathedral, Edmundston certainly punches above its weight architecture-wise for a small Maritime city, and deserves to be regarded as an architectural destination.
Walking/bus tour begins at the Musée historique du Madawaska.  Participants will disembark from the bus in front of the main building (Pavillion Simon-Larouche) on campus.  5 minutes. Participants board the bus which proceeds to the public library that was the church of the former Notre-Dame du Sacré-Cœur parish.  33 rue Irene. Participants will disembark from the bus in front of the building. 10 minutes. The bus will then drive to Notre-Dame-des-Sept-Douleurs church for an interior visit (10 minutes). Proceed to conference centre where the tour continues on foot.
Wednesday night reception 7 pm at the Centre des Arts d'Edmundston. 
The Centre des arts de la Petite église d'Edmundston project involved renovating the former Saint Paul's United Church and converting it into a modern and functional cultural centre for both the visual and performing arts. The newly refurbished centre includes a main floor theatre, art gallery, a multifunctional room for workshops and art camps, a ticketing facility as well as art storage. The second floor now inludes offices, a  reception room, and two sound-proof rehearsal rooms. The Centre is located in the downtown core next to the convention centre and major hotels, complimenting Edmundston's existing infrastructure.
Monologue at the reception
A resident of Nelson-Miramichi, and Executive Director for Friends of Beaubears Island, Shawn McCarthy wears many hats – both figuratively and literally. Recently freed from the almost sisyphean quest for his elusive PhD, he's pleased to find himself, once again, in the company of witty and suave characters both on the Island, and off.
The short monologue concerning Miramichi Father of Confederation & Beaubears Island owner, Peter Mitchell will look at the 1852 and 1856 election campaigns, his family, his legal partner, and friend, John Mercer Johnson, and his wife, Isabella, Confederation, anti-confederation sentiment, the Inter-colonial Railway, the first federal cabinet, ownership of Beaubears Island, the role of his step-son Jacob Gough, the Pacific Scandal, the general election of 1878, and Mitchell's final years.
Thursday, November 2, 2017
8:00 – 8:30 Madawaska Maliseet First Nation and Drum Ceremoney
8:30 – 9: 30 –  Keynote, John Leroux, Architect, artist and art historian, Presentation: The Future in our Past – the Tangible Value of New Brunswick's Modern Heritage– EN, FR
Architect, artist and art historian John Leroux takes a holistic view of his profession, seeing beyond buildings themselves into the cultural, intellectual and physical landscapes to which they contribute. Born in Fredericton, Leroux graduated from the McGill School of Architecture in 1994 and completed a Masters degree in Canadian Art History at Concordia University in 2002. Over the past two decades, he has worked at several award-winning architecture firms in Toronto, Atlanta and Fredericton. In 2012 he was a team member whose work was selected to represent Canada at the prestigious Venice Biennale in Architecture in Venice, Italy.
He has won many awards for architectural and public art projects throughout Canada, he has worked on set design for Theatre New Brunswick, and has taught at UNB, St. Thomas University and the New Brunswick College of Craft & Design. A contributing architecture columnist for the Telegraph-Journal and Canadian Architect magazine, he is also the author of six books on New Brunswick architecture, including Building New Brunswick: an architectural history, St. Andrews Architecture: 1604-1966 and most recently Glorious Light: the stained glass of Fredericton. John has been honoured with grants and awards from the Canada Council for the Arts, the Royal Architectural Institute of Canada, the New Brunswick Arts Board, and the City of Toronto Public Art Commission. In 2008 he curated and designed the landmark exhibition "Building New Brunswick" at the Beaverbrook Art Gallery.
In its day, Modernism was a movement defined as the end of historical style – but paradoxically it has now become a distinct period within that same continuing history. Sensitivity to the period's architectural legacy is rapidly evolving within design circles, as well as within the public. A new generation is recognizing that the decades following the Second World War have contributed examples of craftsmanship and expressive spaces of light and colour that are increasingly appreciated as central to the cultural heritage and development of Canada. Throughout New Brunswick a number of distinguished Modernist buildings embellish our cities and smaller towns, and some are among the best examples in Canada, although the majority are little-known or celebrated, even within our provincial borders.
Postwar architecture has impacted nearly all levels of New Brunswick's fabric – from homes to buildings designed for the enjoyment of culture, religious worship, and the workings of government. We are fortunate to possess these exceptional examples from a unique period in history that spoke to the post-War spirit and ideals of higher education, enlightenment, and civic vocation, while embracing increasingly rapid technical advances in building design. They are most certainly deserving of reexamination, and long overdue praise.
#1 – 9:30 – 10:30 – Dr. Melanie Morin-Pelletier – Vimy – beyond the Battle – EN, FR
Dr. Melanie Morin-Pelletier is the Historian of War and Society at the Canadian War Museum in Ottawa. She is the author of Briser les ailes de l'ange: Les infirmières militaires canadiennes (1914-1918) and has published multiple articles on Canadian military nursing and on the impact of the war on the Canadian home front. Since joining the Canadian War Museum in 2012, she has curated the major exhibitions: Fighting in Flanders. Gas. Mud. Memory (2014), Homefront 1917 (2015), and Vimy: Beyond the Battle (2017). Her current research interests focus on human experiences of the war, whether on the battlefield, in military hospitals or on the home front.   
The Battle of Vimy Ridge (April 9 to 12, 1917) is often the only battle from the First World War that many Canadians can name. The vision of this battle has evolved a lot in the last century, going from a tragic, but tactical victory on a France battle field, to an emblematic event for the Canadian nation. Our presentation will be on the creative process for the temporary exhibit.
"Vimy – Beyond the Battle" is presented at the Canadian War Museum from April 5 to November 12, 2017. As a historian and exhibit curator, I will start by talking about its place in the First World War Centennial and Canada's 150th anniversary projects. I will then talk about the central elements of the developmental process for this exhibit: goals fixed, audiences targeted, thematic and conceptual approach chosen as well as design (including artistic, interactive and audio-visual components). Finally, I will underline certain challenges we faced during the developmental process for this exhibit, which for the Canadian War Museum, were out of the ordinary.
#2 – 9:30 – 10:30 – Dr. Stephen Patterson. Professor Emeritus of History, UNB – Miramichi post-fire builders. EN
Heritage buildings, written sources, artifacts and genealogy considered together effectively tell our stories and help us understand our history.  This will be an illustrated presentation.
Dr. Stephen Patterson taught history at UNB from 1964 – 2002. He served as chairperson of the history department, director of the graduate program and as director of UNB's fine arts program.  He served on a number of UNB Committees, on the Board of Governors and the Senate and was university orator for 17 years. 
Professor Patterson has been researching and writing in the field of Colonial North American history since his days as a graduate student.  With his most recent writing in the area of aboriginal history Dr. Patterson has undertaken major research projects on behalf of the federal government and several provincial governments.  He is author of over 30 scholarly papers and articles, numerous scholarly reviews and a major monograph.
He was on the Board of Directors in the formative years of Fredericton Heritage Trust serving as Vice President and President and is a member of the current Board of Directors.
Professor's illustrated presentation will demonstrate how heritage buildings, written sources, artifacts and genealogy considered together tell our New Brunswick stories and help us understand and appreciate a history we can share with pride.
 10:30 – 11:00 – Heath Break/Silent Auction/Trade Show
 #3 – 11:00 – 11:50 – New Brunswick Museum Landscape. Situational analysis from a newcomer perspective.  FR
By Dominique Gélinas, Social History Curator, New Brunswick Museum 
While reflecting on the definition and the vision of the new social history department of the New Brunswick Museum in the spring of 2017, we have felt the need to investigate to be aware of the situational analysis of the province's museums. 
With the information gathered from tourism sites, websites and the Association Heritage New Brunswick, we have compiled data that revealed interesting results, which we'd like to share with the museum community.
We have counted 114 museum institutions. We can already say that there is a great web presence; however, they are not all showcased the same. Sometimes, that is due to different budgets allocated to communications, but certain platforms could still be pursued further. There is a broad range of historical and heritage themes in the province, but ironically, some are very deeply rooted locally. This situation makes us think about the importance of diversifying the museum experiences.
This conference wants to shed light on certain findings, but especially outline avenues for further reflection so that smaller museum institutions can raise their online profile to gain better visibility, but also so they can become more accessible to different publics. 
#4 – 11:00 – 11:50 – Tom McLaughlan, Board Chair, 8th Hussars – Sustainable Environmental Development in today's museums – EN
Tom Mclaughlan – Retired military also with 20 years' as an environmental officer with DND with experience in developing and monitoring environmental management programs, green procurement programs, hazardous materials management and emergency response. Developed the first DND base's sustainable development plan for CFB Gagetown in 2006. Currently chair of the 8th Hussars Museum in Sussex, NB.
Darrell Zinck – Retired military with 25 years' experience. Experienced in compliance with the DND's green procurement programs, sustainable management system and their environmental management system (ISO 14000 standard). He is an avid military historian and a member of the 8th Hussars Museum Board.
The presentation would cover the applicable points of the CMA Sustainable Development Guide for Canada's Museums and provide a template and suggested programs that small to medium museums can adequately develop and implement green plans which are becoming increasingly important in the management of facilities of all kinds.
The presentation would also give an overview of local requirements and green procurement opportunities, funding suggestions and plan development.
#5 – 11:00 – 12:00 – Preserving Places of Faith:  Challenges and Solutions. EN
The future of Places of Faith is at risk as congregations experience declining attendance, decreasing financial resources, and high operating and maintenance costs.  These buildings have been the centres of community life, are rich in history, are often the finest examples of architecture in our rural landscapes and towns and cities, and remain best-loved places.  Their survival is important to the faith groups involved, and to neighbourhoods and communities. How can these groups work with heritage organizations and advocates, governments, developers and others to ensure they survive and thrive as living heritage?
The importance and value of religious architecture
Jim Bezanson, former City of Saint John heritage planner, heritage developer
Jim Bezanson is a heritage conservation architect and property developer in Saint John.  He has a broad background in issues involving conservation of our built heritage gained over the past 40 years.  He has worked simultaneously as an architect, planner, educator, property manager and developer.  His understanding of the often conflicting values of each role allows him to offer innovative heritage conservation solutions.
Jim holds degrees in architecture, environmental design and planning.  However, he learned most of what he knows by gaining hands on experience while walking his talk and leading by example.  Jim owns, conserves and develops five heritage buildings built between 1878 and 1888.  He has served on local and national boards including as Chair of Heritage Canada (now The National Trust for Canada).  Jim has received numerous awards including the Gabriele Leger Medal for lifetime achievement.
Challenges facing Places of Faith
Christopher Waldschutz, warden Trinity Anglican Church, Saint John, former Saint John City Councillor.
Christopher Waldschutz has served his community in many capacities including as a Saint John City Councillor.   As Councillor he chaired the city's police commission.
He is a member of the Board of Directors of the inner city youth ministry and warden of Trinity Anglican Church in Saint John.  He is a member of Heritage Saint John.
The future of Places of Faith is at risk as congregations experience declining attendance, decreasing financial resources, and high operating and maintenance costs.  These buildings have been the centres of community life, are rich in history, are often the finest examples of architecture in our rural landscapes and towns and cities, and remain best-loved places.  Their survival is important to the faith groups involved, and to neighbourhoods and communities. How can these groups work with heritage organizations and advocates, governments, developers and others to ensure they survive and thrive as living heritage?
Jim and Christopher will discuss the importance and value of religious architecture and the challenges faced in preserving places of faith.
12:00 Lunch and AGM (Silent Auction/Trade Show)
(For AGM your membership must be in good standing to be able to vote. If unsure please communicate with Chantal via email chantal.brideau@amnb.ca)
#6 – 13:10 – 14:10 – Canada's Forgotten Father: A Retrospective By Shawn McCarthy, EN
In honoring Peter Mitchell for Canada's 150th birthday, the Friends of Beaubears Island worked closely with other like-minded partners to present a re-creation of the 1872 celebratory picnic on the Island with guests in both 19thand 21st century dress, as well as a theatrical presentation chronicling the unique episodes of Mitchell's life, which toured the province.
This presentation will focus on the planning, execution, and results of this project, and hopes to engage the broader AHNB community in a discussion of how history is re-imagined and interpreted in projects such as this. Topics to include: Research & Script-writing, Funding, Logistics – both on and off stage, and,  how this project, in part, contributed to a growing wave of character-based heritage interpretation in the Miramichi Region.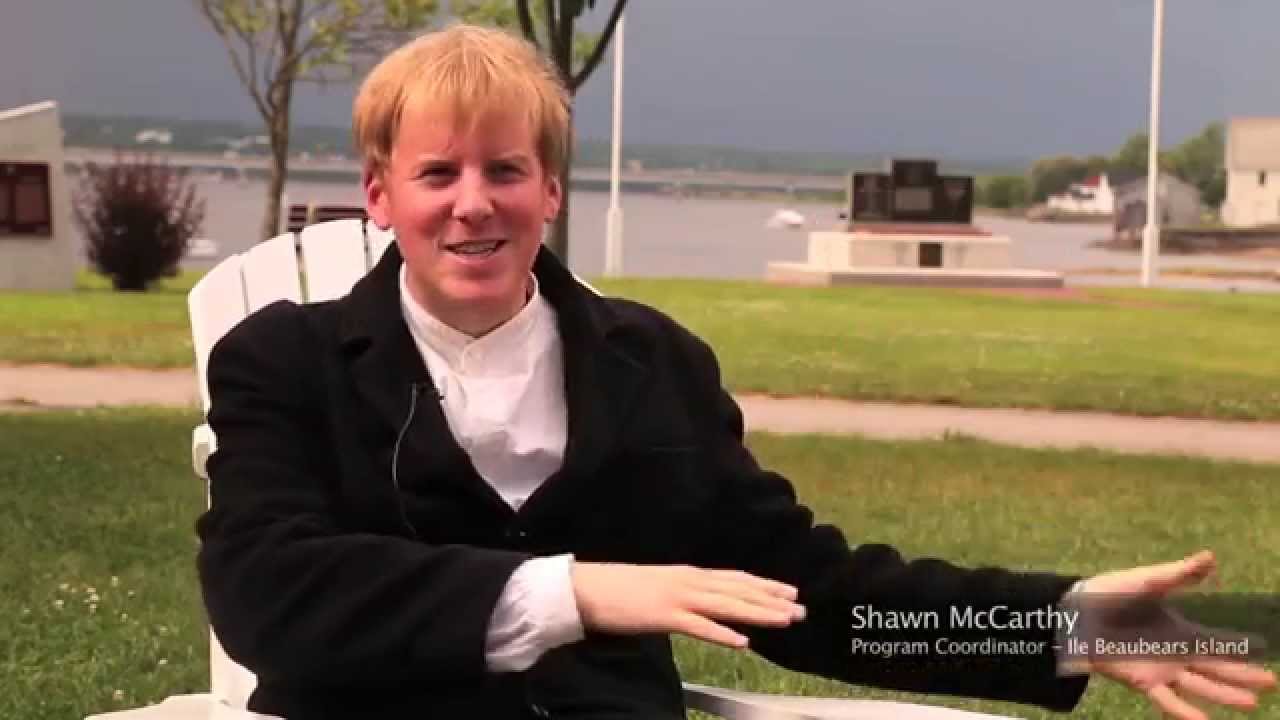 #7 – 13:10 – 14:10 – Panel: Fresh Perspectives, FR
Young adults are engaged, creative, and seeking an output for their creativity. They are an important target audience for our cultural institutions and active contributors to our operations. This interactive panel discussion will share how you can better harness their energy and consider their perspectives at your institution. Discover how these voices provide unique opportunities to reach a broader audience and provide fresh perspectives on content, delivery, and operations.  
Moderator                             Panelist #1
                       Panelist #2                                     Panelist #3
Moderator – Angela Cassie – Vice-President, Canadian Museum of Human Rights
Panelist #1 – Frank LeBlanc – Documentation Technician, Centre d'études acadiennes Anselme-Chiasson
Panelist #2 – Amélie Montour – Masters Student in History at the University of Moncton
Panelist #3 – Meredith Batt – Winter Education, Coordinator, Resurgo Place
14:10 – 14:40 – Health Break/Silent Auction/Trade Show
Different Built Heritage Stream
# 8 – 13:00 – 13:45 – Religious Built Heritage. EN
Bill Hicks, Director, Heritage Branch.  Tourism, Heritage and Culture 
Bill Hicks is the Director of the Heritage Branch, Department of Tourism, Heritage and Culture for the Province of New Brunswick and interim CEO of the New Brunswick Museum.
The Mandate of the Heritage Branch is to coordinate and support activities designed to promote heritage awareness and to conserve heritage resources. As part of its coordination role, the Branch provides financial, planning and technical assistance to the province's archaeological, aboriginal, heritage and museum communities. The Heritage Branch also administers the provincial toponymy program.
# 8a – 13:45 – 14:30 – Heating Geothermally – making continuing use of places of faith more affordable EN
Peter Brown.  CEO Creation Energy Inc. (a full service geo thermal system developer)/ Bayside Builders, PEI and Ted Cole, Director of Operations Creation Energy Inc.
Peter Brown is CEO of Creation Energy/Bayside Builders; Ted Cole is Director of Operations.  Creation Energy Inc., a federal corporation with a local corporate presence based in Prince Edward Island, together with Bayside Builders is focused on proving cost effective clean energy solutions for industrial, commercial and residential applications. 
Peter is a builder and developer with forty years experience locally and internationally.  He is a licensed Red Seal carpenter and has been an innovator and leader in many areas of construction and in introducing renewable energy solutions.   Ted is a geothermal project development design consultant and has consulted, developed and designed the conversion of eight parish churches and rectories for the Roman Catholic parishes in Southeastern New Brunswick.
Peter and Ted will discuss the benefits of geothermal heating in making continuing use of places of faith more affordable.  They will guide participants through the process of adopting geothermal heating from initial assessment and decision making to funding and installation.
14:30-15:00 – Health Break Built Heritage/Silent Auction/Trade Show
# 8b – 15:00 – 17:00 – Natalie Bull, Executive Director of the National Trust for Canada, EN
Drawing on her experience with the National Trust and her knowledge of the work of other Trusts and heritage groups Natalie Bull will speak of successes in other jurisdictions in preserving places of faith for continuing worship or for other uses; share models for support such as Quebec's religious heritage inventory and funding program, and the US non-profit organization Partners for Sacred Places.  She will also present the principles of consensus building, mission alignment and financial sustainability that are featured in the Regenerating Places of Faith workshop offered by the National Trust for Canada.
Participants will be invited to speak of their experiences relating to efforts to preserve places of faith and to participate in a question and answer session.
Born in New Brunswick, Natalie Bull completed her studies at the University of Montréal with a master's degree in Applied Sciences in Architectural Conservation. She has worked for Public Works and Government Services Canada since 1992 in progressively senior positions, including Architectural Conservation Advisor, Business Development Manager, Program Manager and Acting Director with the Heritage Conservation Directorate, Real Property Program. Last year, Natalie Bull completed a term as Manager of Certification for the Historic Places Program at Parks Canada.
Natalie Bull also brings strong non-profit-sector leadership experience to her new position. Her active membership in the Association for Preservation Technology International (APT) culminated in her election in 2003 for a two year term as President and Chief Executive Officer.
As an expert in heritage conservation, Natalie Bull has participated in a number of symposia as a panellist, lecturer and technical trainer. She is well known and respected in the conservation field in Canada and has participated in many speaking engagements across North America.
Museum Stream
4:10 – 14:40 Health Break/Silent Auction/Trade Show
#9 – 14:40 – 15:40 – Gazing into the Museum Crystal Ball: Using Environmental Scanning and Trends Analysis in your Planning by Deborah Robichaud, EN FR
Using these tools will help you improve your museum's short term and long term plan, improve your links with your community,  and connecting the past with the present and the future in a more meaningful way for your visitors. The session will be presented in French with bilingual slides.
Deborah Robichaud is a former director of the Musée acadien, Université de Moncton, and a retired employee of the Department of Canadian Heritage. She has worked in heritage and cultural funding programs as well as at the Canadian Conservation Institute. Recently, she curated the exhibition "Always Loved, Never Forgotten" for the Musée acadien, and owns Norembegue Consulting.
#10 – 14:40 – 15:40 – Presentation: Loans: How to Borrow Objects from the New Brunswick Museum, EN
Bruce Thomson, Museum Services Manager at New Brunswick Museum
You've put together a fabulous exhibition but you're missing some items to complete your storyline.  And guess who might have the perfect objects to fill the gap?  The provincial museum:  the New Brunswick Museum! This session will provide the who, what, where, when, why and how to borrow objects for short term loan from the New Brunswick Museum. Policies and procedures will be explored as well as examining some case studies of what to do and sometimes what not to do.  The New Brunswick Museum is pleased to partner with community museums whenever we can and this session will provide the information to make a request and successful loan as seamless and as painless as possible.
Bruce Thomson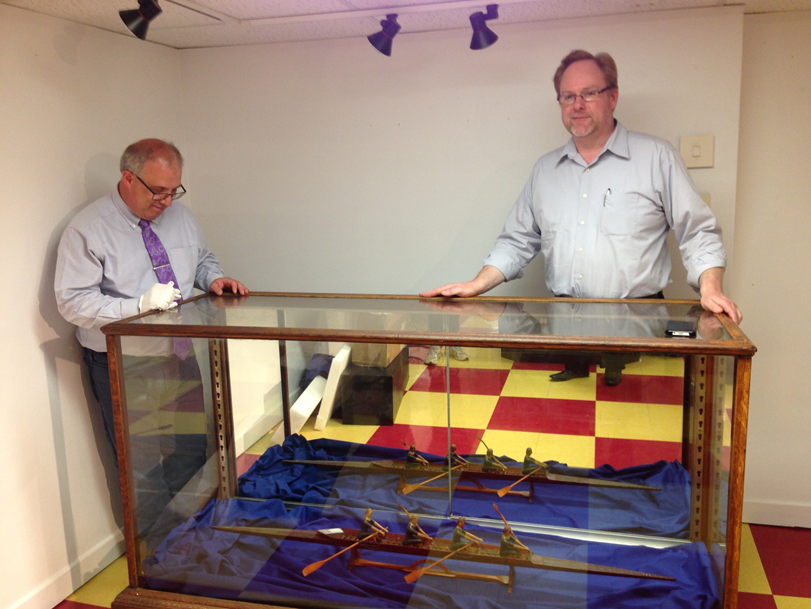 The New Brunswick Sports Hall of Fame borrowed an object from the New Brunswick Museum to help complete their exhibit on "Paris Crew"
15:40 – 16:10 – Health Break/Trade Show/Silent Auction
16:10 – 17:00 – Exhibit Ideas by Bill Clarke (Workshop), EN
This workshop would deal with some of the methods we have used in preparing both temporary exhibitions and permanent exhibits, including wood finishing methods that create interest, label preparation, creating interesting letters and more. We use methods that are quite inexpensive and follow a basic rule: if we can't do it in-house, we don't do it.
16:10 – 17:30 – Historical  Walking Tour with Mathieu Martin, FR 
Mathieu Martin was born in Edmundston, New Brunswick. From early childhood, he has developed a true passion for history and current events. He's very involved in his community and loves to meet new challenges. Mathieu is currently studying history at l'Université de Moncton, Edmundston campus.
The downtown historical tour offers the opportunity to explore Madawaska's history. You'll get to learn interesting facts regarding the history of the region, the important buildings and the local culture. The circuit will be done on foot and will begin in front of the Edmundston Convention Centre. This hour-and-a-half visit of the downtown area will make scheduled stops in front of the Immaculate Conception Cathedral, the City Hall Square, the Madawaska Dam, the Bernard Valcourt Bridge, and many more. At any time during the tour, you will get the opportunity to ask questions on the local culture.
18:30 – Mix and Mingle
19:00 – Banquet and Award ceremony
Guest Speaker: TBA
Silent Action ends at Banquet
Entertainment: Local Singers (Gaëtane Saucier Nadeau and Emily Ouellette) plus Local Band "No Limit"
Friday, November 3, 2017
Friday we will have a place to store your luggage if necessary.
Please contact Chantal if arrangements need to be made. (506)461-6474
8:00 – 9:00 – Breakfast with message from René Arsenault Federal MP representing Madawaska (video)
9:00 -10:00 – Keynote – Presentation: Contributing to Collective Memory by Angela Cassie, Vice-President, affairs and Programming, Canadian Museum for Human Rights (CMHR), FR EN
In her role as Vice-President, Public Affairs and Programming, Angela Cassie leads a team that delivers world-class public and educational programming and positions the Canadian Museum for Human Rights (CMHR) nationally and internationally through effective communications and marketing campaigns. She works with local, national and international tourism partners to profile Canada and Winnipeg as a destination, with the CMHR as a draw.  She also leads the organization's partnership and government relations functions. Angela first joined the CMHR in 2008. As a member of the Museum's inaugural leadership team, she was instrumental in the work to open the first new Canadian national museum in 45 years. This included managing the Museum's Human Rights Advisory Council and former Content Advisory Committee, meeting with community leaders across the country and leading the Museum's exhaustive cross-Canada consultations, held in over 19 communities in 13 provinces and territories.
Prior to joining the CMHR, this University of Winnipeg alumnus spent 10 years working for the Government of Canada with the Department of Canadian Heritage. Her time with the Department saw her take on various assignments in Communications, Executive Services, and Program Management, including work with Official Languages, Arts, Culture and Heritage, Multiculturalism, Celebrate Canada and Aboriginal Programs. During her time with the Department she was also involved with the 1999 Pan American Games, the 2002 North American Indigenous Games, the 2005 Canada Games, Royal Visits, and various VIP and ministerial events. She sat on numerous committees at both the regional and national level, including GenerAction and the National Council for Visible Minorities. 
What is the role of cultural institutions and museums in contributing to Canada's and the world's collective memory, both of the triumphs and the tragedies? The role of the Canadian Museum for Human Rights is to create a space for education, reflection, and respectful dialogue. The challenge lies in how to create space for difficult conversations, the ones that seek to integrate the realities and histories of all. It is in this dialogue that our shared history – our collective memory – begins to shift.
#A – 10:00 – 11:00 – Presentation: When the museum visitor becomes an actor.  The necessary contribution of the evaluation. by Lucie Daignault, Director Public Research, Musée de la civilisation de Québec, FR
 Lucie Daignault is responsible for public research at the Musée de la civilisation de Québec since March 1988. She has a doctorate in Education from l'Université Laval and has completed part of her doctoral studies at l'Université René‑Descartes in Paris. 
Her research fields are: preliminary studies, exhibit evaluation, formative evaluation of museographical devises and websites, surveys on tourism impact and specific clientele surveys.
She is also a lecturer in certain Quebec universities, as well as evaluation instructor for the Quebec museum network and internationally. She is the author of many research notebooks and scientific articles, has given several conferences as part of conferences locally, and internationally.
Her work: L'évaluation muséale : Savoirs et savoir-faire1 has received the Research Award from the Canadian Museums Association in 2013. She has codirected a collective work: Les musées et leurs publics. Savoirs et enjeux2, launched at an international symposium she had organized in December 2014.
Since its creation, the Musée de la civilisation has kept an approach that is veered towards the public, keeping its promise to make its cultural resource more accessible to a greater number of visitors. Making sure it addresses every type of visitor implies that the museum needs to give the visitors the right tools so they can relate to the exhibited subjects. Here, we are far from the times when a visitor was considered like a blank canvas that needed to be painted and where a visitor had to have previous knowledge before stepping foot in a museum. The movement of collection objects closer to the public has given much more importance to the value of knowledge and know-how. In their ways of showing their exhibits, museums have gone from exogenous, where "knowledge is required to learn" to an endogenous logic, where everything is explained to the visitor.
The inclusion of the public comes from the cultural democratization as well as the communications approach developed by the museums. As clearly underscored by Bernard Schiele2, the evaluation is considered as the guarantor of accessibility for all at the museum since it is the means of communication between the cultural output of the museum and the public itself. In fact, the evaluation is the only objective way to keep in touch with the public and it is also a guidance and cultural strategy tool.
29 years of research on the visitors of the Musée de la civilisation has touched on several issues that have an impact on its mandate. After having limited the scope of her research on the visitors and having shown different types of museum evaluations, some of the charts will be brought to the forefront and will show how the discussions with the public helped join the planners and the public. A special attention will be given to the consideration of the results.
#B – 10:00 – 11:00 – Assessing heritage structures and planning for their preservation by Dr. Tom Morrison
Dr. Tom Morrison is principal engineer with Heritage Standing Inc., a structural engineering firm specializing in historic buildings.  It provides quality technical services based on international practices in the preservation, rehabilitation and restoration of historic structures and is part of the Structural Conservation Collaborative, an international team of heritage experts who together optimize solutions to the unique challenges of maintaining our built heritage.
Dr. Morrison completed his Ph.D. in seismic evaluation and rehabilitation of existing buildings at McGill University, Montreal. He then assumed his present role as principal engineer at Heritage Standing Inc. in 2012.  Prior to founding Heritage Standing Inc, Dr. Morrison held a position at the Heritage Conservation Directorate, the division of Public Works Canada dedicated to overseeing engineering and architectural work on all federally designated and owned heritage properties. He is an Expert Member of the International Scientific Committee on the Analysis and Restoration of Structures of Architectural Heritage, a Co-Chair of the Preservation Engineering Committee of the Association for Preservation Technology International, and a Board Member of the Canadian Association of Heritage Professionals.  He has worked on UNESCO World Heritage Sites, National Historic Sites, and local barns.  
11:00 – 11:30 – Health Break/Trade Show – Draw of Prizes
#C – 11:30 – 12:30 – Panel discussion: Madawaska history: situational analysis, FR
This panel discussion will touch on our understanding of Madawaska history. Researchers from different generations will make up this panel. The activity will be chaired by historian and Université de Moncton (Edmundston campus) professor, Nicole Lang. First, Professor Lang will give a brief overview of the major events in Madawaska history. Afterwards, she will invite students to share some of the research they have done as part of their history course at UMCE. Their work touches on the social clubs in the region that have greatly contributed to the economic and social growth of the region. Professor Lang will also talk about her work on commemorative sites built in Madawaska. A question period will follow the presentations.
Panel participants include :
Nicole Lang, historian and professor at UMCE. She will chair the panel discussion.
Valérie Albert, undergraduate student in Education, majoring in history, from the Moncton campus of l'Université de Moncton. Her work focuses on Edmundston's Lions Club.
André Bernier, undergraduate student pursuing his multidisciplinary bachelor's degree with a minor in history at the Edmundston campus of l'Université de Moncton. His research project is on Edmundston's Rotary Club.
Sandrine Duval, undergraduate student pursuing her bachelor's degree in individualized studies at the Edmundston campus of l'Université de Moncton, with a specialty in literature. Her research project is on Edmundston's Dames d'Acadie club.
Mathieu Martin, undergraduate student pursuing his bachelor's degree in individualized studies at the Edmundston campus of l'Université de Moncton, with a specialty in history. His research project is on Edmundston's Richelieu Club.
Book Launch by Société Historique du Madawaska – Publications will be available for $10.
#D – 11:30 – 12:30 – Building Blocks of Register of Historic Places Entries.
The work of preparing and entering description of heritage buildings on the Register of Historic Places has slowed since federal funding was not renewed several years ago.  However it remains important: if Bill C323 (would create a tax credit for rehabilitation work on designated historic places and an accelerated Capital Cost Allowance for commercial buildings) is enacted, only buildings on the Register will be eligible for the benefits; in time the Register may be used as criteria for other funding programs; the Register provides a valuable data base of research on heritage properties and an inventory of heritage buildings nationally; alerts owners to the heritage importance of their property.
The person responsible for this part is Koral LaVorgna, Executive Director of Association Heritage New Brunswick.
Koral LaVorgna holds a PhD in History from the University of New Brunswick, where she studied 19th century teacher careerism. While completing her degree, she worked as a Research Consultant for the City of Fredericton. In that capacity, she has explored the city's built heritage, uncovering "storeys" along the way that ranged from the delightful to the diabolical. She expects to blend her passion for history and heritage in creative and innovative ways in her position as Executive Director for the Association Heritage New Brunswick.
Writing Statements of Significance for the Register of Historic Places by Lawren Campbell
Lawren Campbell is Heritage and Culture Coordinator, Resurgo Place, City of Moncton.  In this capacity he is staff resource for the Moncton Heritage Preservation Board and staff resource for the Downtown Revitalization Committee.
He has a B.A. from St. Francis Xavier and studied Theatre at Ryerson.  Lawren is an actor and cinematographer and has had numerous roles in television, movie and stage presentations.
Lawren has held the positions of Local Registrar for Historic Places, Moncton, and Provincial Registrar for Historic Places, Heritage Branch, and government of New Brunswick.  During his 6 ½ years as Provincial Registrar he reviewed and edited more than 1,500 Statements of Significance for Local and Provincial Historic Place from around the province.
12:30 – 1:00 Departure