Guy Tremblay — Founders Award:
Guy Tremblay came to work in New Brunswick in 2002 as Manager of museum services in the Department of Tourism, Heritage and Culture with university degrees at the Masters level in history and in organizational management from Quebec universities.  He had extensive experience in consulting and working with a variety of economic and social development initiatives and cultural, entrepreneurial and tourism and museum organizations in many diverse aspects of management. For instance, these specific projects included designing specialized tools for use in micro-entrepreneurship, creating business plans encompassing marketing operations, human resources and finance for entrepreneurs, as well as 10 years experience as executive director and curator of the Musée régional de la Côte-Nord and the Old Trading Post in Sept-Îles.
He managed programs, provided advice, and shared his expertise in organizational development in the museum's community throughout the province.  In this work he was always guided by his support for and knowledge (from his experience and from listening to staff and volunteers in New Brunswick museums) of what was really needed to help museums operate and succeed.  After the launch of the renewed Cultural Policy for New Brunswick in 2002 Guy was charged with the development and implementation of the museum network model which involved establishing a province wide network of zones aimed at grouping organizations involved in the preservation and promotion of New Brunswick's heritage and developing a related marketing strategy.
Guy took the time to included volunteers new to their role in museums to ensure they understood fundamental best practices in museums, is appreciatively remembered.  He was always abundantly patient with the endless questions, whether to do with writing grant proposals, developing exhibits, raising funds, finding ways to match grant programs with needs, bringing museum facilities up to standard, or dealing with difficulties encountered by volunteers.  He was an invaluable mentor.  He always treated volunteers like professional museum employees and made sure that their role as volunteers was appreciated and valued.   His help in ensuring the continuance of the summer student program was of major importance to the museum community.  He sat in on the initial planning stages of projects and drew on his knowledge in advising on various sources of funding that might be available.
Guy's contributions to museums went far beyond the responsibilities of his position.  He was in the corner of small museums; he understood the difficulties facing them and he helped in any way he could for them to reach their goals. He found joy in the successes of New Brunswick museums. His predisposition was always to help those who managed and worked in museums by explaining and interpreting policies and program guidelines, so they could be steered in a positive and productive way. Museum professionals and volunteers felt Guy was in their corner and when they were successful, he was elated.  Guy often dropped in on museums during his vacations and made life-long friendships in the heritage field.
The Founders Award recognizes the outstanding contributions to the people of New Brunswick recognizing a singular or series of outstanding contributions of an individual to their community or to the province at large.  The award is initiated and decided on by the AHNB Executive which was unanimous in the decision to present this award to Guy Tremblay, and I am sure the membership who have benefited from Guy's advice and assistance over the last almost 20 years are unanimous in their support of Guy's being named recipient as well.
Fern Bell – Quarter Century Award:
The Quarter Century Award of the Association Heritage New Brunswick is presented to Fern Bell for her dedicated service of more than 40 years, as volunteer accountant and financial advisor to the Carleton County Historical Society.
The Carleton County Historical Society is an exemplary organization and Fern's contributions as their Treasurer have been critical in its many successes.  CCHS operates two accurately restored historic sites: the Old Carleton County Court House, a Provincial Historic Site, and the Hon. Charles Connell House, a National Historic site, for which Fern helped fundraise. Both sites offer a variety of special programs and exceptional exhibits, that prudent financial management has made possible.  Although now over 90 years of age, Fern remains a valued member who is able and willing to continue to contribute to the CCHS community she has become so much a part of.  In all of her volunteer activities her voice has been a quiet, level-headed one.
Fern Bell, herself, made history in her career in accounting.  After attending Teacher's College in Fredericton, and Business College in Saint John, she moved to Woodstock at age 19 to work for Stiles Motors.  While raising her family she retuned to studies to become a Chartered General Accountant, one of only 2 women in N.B. to gain that designation at that time. She remained in practice for 44 years, becoming a Chartered Accountant in 1967.   She retired from her professional career at age 80.
Fern has served as a valued volunteer for many organizations for many years including the King's Daughters, Woodstock's Peter Pan School, the Canadian Association for the Mentally Handicapped, and Treasurer of her Baptist Church.  Fern has been honoured with several prestigious awards over the years, and the AHNB is pleased to present, a debt of gratitude from the heritage community to her.
Seen in the photo from left to right: Fern Bell and John Thompson (President, CCHS).
John Leighton Williamson – Quarter Century Award:    
The Quarter Century Award is presented posthumously to John Leighton Williamson.
John Williamson played a major role in setting up the institutions that today support the understanding, preservation, and promotion of New Brunswick's history and heritage.  As Deputy Minister of Finance and Secretary to Treasury Board, he was instrumental in establishing the first agency in the government of New Brunswick devoted to heritage, the Historical Resources Administration, and in having the first heritage preservation legislation enacted, and the Provincial Archives established.  Part of his responsibilities was overseeing budget development that provided ongoing support for Kings Landing, le Village Historique Acadian, and the New Brunswick Museum.
John was board member and secretary of the Kings Landing Corporation from 1973 to 1982.  He was a member and board member of many heritage organisations including the New Brunswick Museum, the United Empire Loyalist Society of Canada, the Fredericton Society of St. Andrew, and the York Sunbury Historical Society.
He was also a heraldry scholar and was tasked by Premier Hatfield with augmenting New Brunswick's provincial shield with a crest, supporters and compartment to produce today's distinctive coat of arms.  The work was completed in 1984 and presented to the province in a public ceremony in Fredericton to mark the province's bicentennial anniversary of its establishment in 1984.
In his retirement he became involved in Charlotte's County's heritage preservation, local history and military research.  He served on the Charlotte County Archives Board and was a long serving Director of the St. Andrews Civic Trust.  He was a member of the Vestry of All Saints Anglican Church in St. Andrews and gave tours to visitors and encouraged the preservation of its historic fabric.  He devoted time to ensuring overlooked or missing names of Canada's war dead were added to public records and properly remembered.  He was also a contributor to the Dictionary of Canadian Biography.
Throughout his life John Williamson made many important contributions to heritage and is well-deserving of AHNB's Quarter Century Award.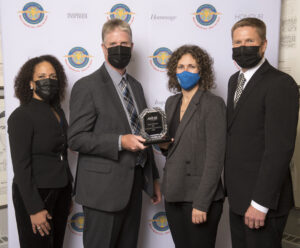 New Brunswick Sports Hall of Fame – Award of Distinction:
The New Brunswick Sports Hall of Fame is presented with the Award of Distinction in recognition of its incredibly successful fundraising initiative, Building Inspiration and Capital Campaign and Theatre Project.
This campaign was the most comprehensive fundraising initiative the New Brunswick Sports Hall of Fame has engaged in during its 50 years of operation.  It not only achieved its fundraising goal but exceeded it permitting the New Brunswick Sports Hall of Fame to completely transform its second floor into a modern exhibit space, and a 50 seat theatre and presentation space.  This multi-purpose venue has dramatically enhanced their ability to organize, deliver and offer new programming and events.  Not only will the state-of-art Theatre and Presentation Space serve the New Brunswick Sports Hall of Fame and its community partners for the foreseeable future, but it will attract many new and diverse audiences to the museum in the heart of Downtown Fredericton.
Fundraising is never easy and the events of recent years have made it even more difficult making the success of the Building Inspiration and Capital Campaign and Theatre Project even more impressive.
Recipients seen in the photo from left to right are as follows: Carla Saul, Andrew McLeod, Martine Leblanc (Chair) and Jamie Wolverton.
St. Andrews Civic Trust – Award of Distinction:
St. Andrews Civic Trust is awarded the Award of Distinction for its diligent and successful work over nearly 50 years to protect, preserve and promote the outstanding heritage of the town of St. Andrews.
Established in 1973 as a non-profit organization, the Trust has undertaken many projects including developing and maintaining an informative and easy-to-navigate website, initiating a Historic Plaque Program to identify and commemorate historically significant homes throughout the town, providing an online "Guide to Historic St. Andrews" walking tour map of historic homes and sites, giving workshops and seminars on local heritage preservation work, compiling a list of various Resource Guides (a useful tool for owners of heritage buildings), allowing on-line access to past issues of the official newsletter "Tidings" and working closely with municipal councils and provincial legislators to protect, preserve and promote the community's heritage assets.
Of great importance as well is St Andrews Civic Trust's initiating, assisting in and carrying out the restoration of a number of heritage properties with partners and supporters. This began when the Trust invited The Heritage Canada Foundation (now the National Trust for Canada) to St Andrews to encourage heritage preservation.  As part of that collaboration Heritage Canada restored two houses (1974-79).  Properties restored directly by the Civic Trust include : Hansen House, Macklem House (restored veranda with roof), Niger Reef Tea House, and Pendlebury Lighthouse (tower and grounds with seawall by the Town).  Numerous other properties and four cemeteries have also been restored with the advice and assistance of the Civic Trust.
The range of initiatives carried out by St. Andrews Civic Trust has preserved a heritage of value to the community, our province, and our nation.  The efforts and achievements of the Trust serve as a model to other heritage groups throughout New Brunswick.
Recipients seen in the photo from left to right are as follows: Board members Barry Murray, Peggy Hogarth, and Dale Dauphinee.
Fredericton Region Museum – Award of Distinction:
The Award of Distinction is presented to the Fredericton Region Museum in recognition of their impressive exhibition "Our Black History:  Early Black Settlers of York-Sunbury Counties, 1783-Present."
This exhibition is noteworthy in its presentation of new, insightful information on the Black History of the York-Sunbury counties and its use of virtual reality, video-voice, and touchscreen technology to tell the stories of Black Loyalists and their descendants who have contributed so greatly to the history of the region.   It is set in a visually appealing architectural replication of St. Peters Anglican Church, a provincial historic site.
Based on the extensive research of a diverse team of volunteers and student interns, the exhibit brought together community members, overcame constraints, and sensitively displayed essential and empowering content in an inspirational manner. The exhibition is significant in that it showcases the importance of inclusion and the value of telling the stories of diverse cultures that have made outstanding and often little-known contributions to the province and to the country.
Recipients seen in the photo are as follows: front row (left to right): Melynda Jarratt, Doug Hall, Dr Mary Louise McCarthy-Brandt; rear (left to right): Mitra Bakhtiar (Synthetic Imageworks), Jennifer Dow, Alan Edwards (Synthetic Imageworks), Dr. Cynthia Wallace-Casey, Graham Nickerson; absent: Doug Daley (Kiers Marketing Group).
Lawren Campbell – Award of Merit
The Award of Merit is presented to Lawren Campbell, Heritage and Culture Coordinator at Resuro Place in Moncton, where his diverse skills and flexibility are important mainstays at the museum.
The Award in part is for his innovative work in developing and presenting a Facebook Live presentation each day on historic buildings and landmarks in Moncton, called Corona Coffee Break.  A total of thirty informative videos were recorded, and Lauren's lively personality made each video interesting and fun to watch.  Because of his research and attention to detail, his videos were instrumental in promoting local heritage around the province.  Members of the public in Moncton and beyond expressed how much they enjoyed and learned from the videos, because they triggered a memory for them and provided an opportunity to look back on Moncton's history.  To his credit, many viewers asked follow-up questions which Resurgo Place staff researched and answered.  The clips were pointed out as an example of good practice at the National Trust of Canada's annual conference and are posted on the AHNB's web site.  Lawren has also put to work his talents and skills for AHNB, by creating videos for our annual Love Your Covered Bridges Days.
The videos will endure and are serving as a building block for future online projects for the Resurgo Place.  The museum itself was spurred on to continue with Lawren's idea and began creating a series of Virtual Memory Box videos in which Lawren and Resurgo staff members have a bilingual dialogue about various pieces in the museums' collections.
Ken Walker – Award of Merit
The Award of Merit is presented to Ken Walker for his service as vice president and volunteer with the Friends of Beaubears Island.
He has been a mentor and a friend to his fellow board members and many employees of the Friends of Beaubears Island, sharing his passion and experience with them. He has actively participated in several tours and events, assisted with employee orientation, worked with the collections team to identify objects and conduct research.  He has promoted the protection of the Island's archaeology and the need for greater research on several sites, including two previously missed foundations he found on the Island in 2018.  He played a key role in the planning and execution of the 2019 commemoration of the 350th anniversary of the establishment of Fortress Sainte Croix on the Northeast branch of the Miramichi in 1669.  He has published two books on the Acadian experience on the Miramichi, and he conducted research on a number of topics ranging from early French settlement to 19th century coach routes through New Brunswick.  He has made presentations as part of Beaubears Island's annual February Speaker Series since 2017, as well as to the Miramichi Historical Society, and to the International Small Islands Association Conference.  Ken has also created an Educational Outreach Program and has presented at several schools prior to the pandemic.
Ken's outreach has taken on a new form using digital media.  For instance, he has a biweekly YouTube series called The Living Island which provides a glimpse into the natural splendour of Beaubears Island; he narrates the series In Their Own Words, a theatrical video series based around historical testimonials, letters, and speeches, and most recently he began co-hosting the Shipbuilding Uncovered series, where he guides his audience through the stories of six archaeological sites on the Island.
He is on the board of the Miramichi History Museum and the Scottish Heritage Association (Miramichi) Inc., where he plays an active role in volunteering at such events as the Old-fashioned Family Picnic during Scottish Fest, and the Haunted Graveyard Walks at Wilson's Point Provincial Historic Site.
For his wise advice and energetic help in the projects of Beaubears Island and other heritage groups, Ken is presented the AHNB's Award of Merit.