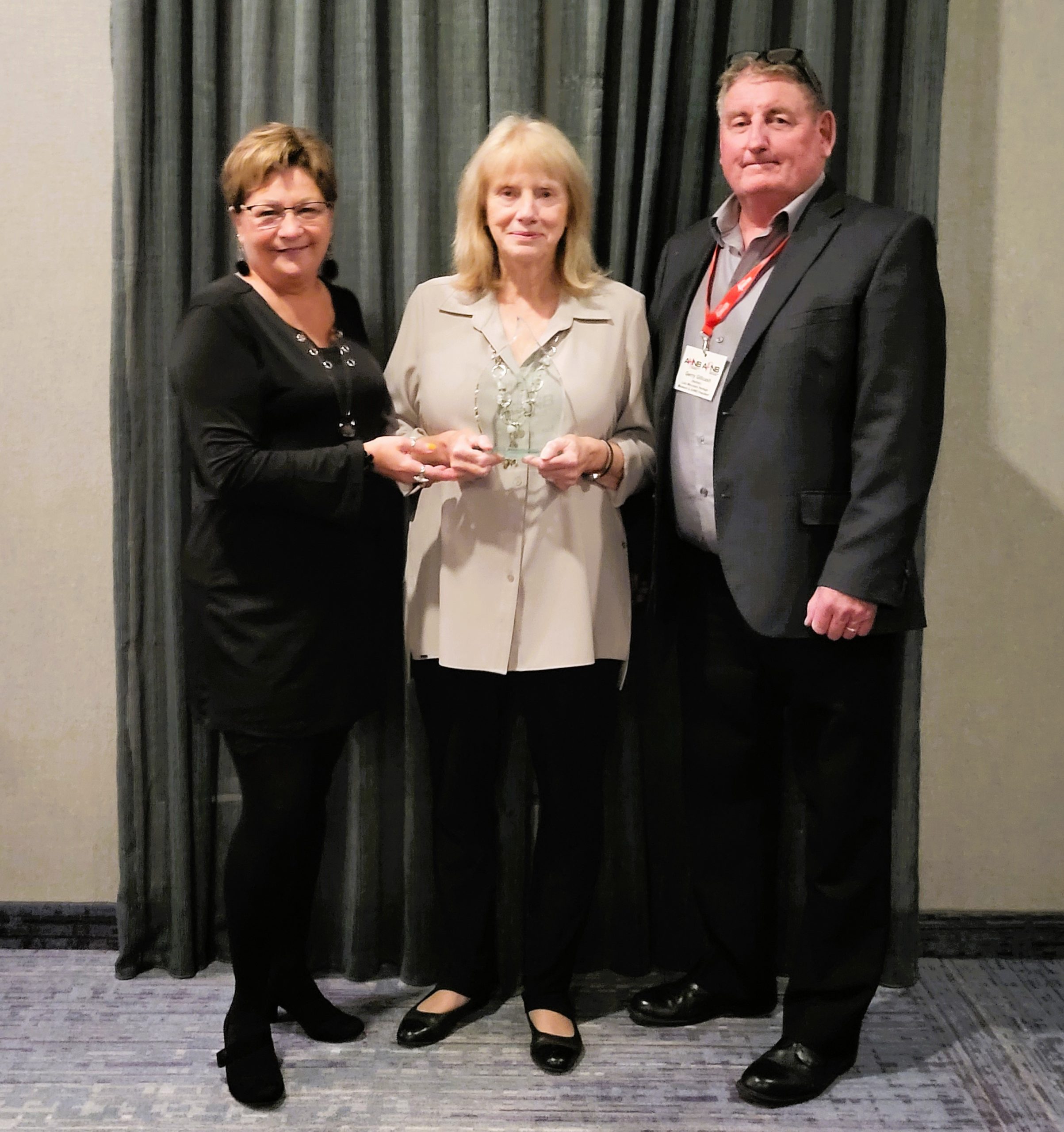 Marion Beyea — Founders Award:
A founder is a person who establishes an institution that is meant to last for a long time. Marion Beyea has been a founder in the heritage preservation community in countless ways. Her committed and enthusiastic work within the archival community began before she had even graduated from the University of New Brunswick in 1967. She worked for the New Brunswick Museum Archives and the UNB Archives as a student, which helped her to later gain employment at the Archives of Ontario, working in their Private Manuscripts department. In 1973 she was a member of the Archives Section of the Canadian Historical Association, where she co-edited a newsletter for archivists. Then in 1976, she became the Archivist of General Synod of the Anglican Church of Canada.  After a few years there she decided to return home to lead New Brunswick's Archives and Records Management program. As Provincial Archivist and Director of the Provincial Archives, she was committed to preserving Loyalist history and strengthening New Brunswick's archival system to be the best that it could be, which has been a consistent theme throughout her career. She is well respected for her dependability and dedication to whatever she takes on.
During her extensive career with the Archives, her devotion to her work led to the creation of many community outreach programs, as well as the formation of the Association of Canadian Archivists (ACA) and the Canadian Council of Archives (CCA). She and a committee of two others worked to unite archivists all over Canada to develop the ACA, where she served as Vice President and President, chaired multiple committees, and was made a Founding Fellow in 2006. She chaired a committee of archivists from all over the country who developed a framework and obtained funding for the CCA, where she then served as Founding Chair. She was also New Brunswick's representative on the Historical Sites and Monuments Board of Canada, and a member of the Steering Committee of the Section of Professional Associations, and Chair of the Committee on Best Practice and Standards of the International Council of Archives. Among her other great contributions, she served on the Board of Governors of the National Trust from 2005 to 2011. Her tireless work ethic was inspiring to her colleagues and her leadership capabilities led each committee she joined to achieve great success.
Over the last 40 years, Marion has gained an irrefutable reputation for being fully invested and focused on her goals. Thanks to her influence, the Provincial Archives of New Brunswick has one of the best collections of genealogical material in the entire country and it is freely available online. She oversaw extensive renovations to the Provincial Archives building that included the addition of a state-of-the-art- repository. Throughout her years at the Archives, she built a large, far-reaching network of people interested in history and the preservation of the built environment. When it became evident that New Brunswick was losing many of their built heritage sites and that local Heritage Trusts were struggling, Marion called together activists that she knew had a desire to see heritage buildings protected and created the provincial Built Heritage Committee.
Marion first joined the board of Association Museums New Brunswick in 1979 and served as Second Vice-President. Her passion for Heritage brought her back to serve on the AMNB Board in 2013, and she became AMNB's First Vice President in 2015. During our Annual Meeting in 2015, the provincial Built Heritage Committee amalgamated with AMNB to form Association Heritage New Brunswick, a transformation that Marion was instrumental in facilitating. Marion has been an integral part of our association for many years and was AHNB's President in 2018 and 2019. Even in her retirement, Marion's enthusiasm and conviction have not waned. She is currently Vice President of the Board of Directors for the Fredericton Heritage Trust and Co-Chair of AHNB's Built Heritage Committee. Her incredible contributions to the archival and heritage preservation communities make her a textbook candidate for AHNB's Founder's Award.
Anita Boudreau – Quarter Century Award:
Anita Boudreau is presented with the Quarter Century Award for her uninterrupted commitment to the Memramcook Historical Society, of which she has been a Board member since 1994, and her volunteer work in her community. She served on the Board of Directors of MHS as vice-president, secretary, and treasurer before taking on her current position as president, which she has had since 2011. The Memramcook Museum benefits greatly from her efforts, as she is the one to write the descriptions for their acquisitions and to display them. She also organizes the many photos that are given to her by locals from the area. These photos capture many pivotal moments and events in their history, and the collection is very important to the area's cultural heritage. She has also taken it upon herself to photograph each house in the village and note their ownership history, which creates a solid foundation to make built heritage and genealogical research accessible in Memramcook. On the subject of genealogy, Anita has made a great effort to preserve and organize all death notices from the village and to compile a list of those buried in the three nearby cemeteries. Her dedication to research and creating resources so that others may have easy access to this information is admirable and inspiring.
Anita is highly respected by her peers not only because of her invaluable work with the Memramcook Historical Society, but also because of her volunteer work outside of the association. She is the sacristan and communion minister at St. Thomas Parish, a volunteer at two local nursing homes, and she previously sat on the Board of Directors of the Monument-Lefebvre Society. She was also involved with the organizing of Société Culturelle de la Valléé de Memramcook's "Prix Éloi", an award created in memory of historic fiddler Éloi à Protais LeBlanc that celebrates artists from Memramcook who have made their mark on the local cultural scene and beyond. Anita has contributed greatly to the preservation of heritage in her area and regularly volunteers her time, effort, and skills to the benefit of heritage preservation and the community overall. Her dedication and many years of service make her an easy choice to receive the Quarter Century Award.
Sherry Little has earned the Award of Merit for her consistent hard work, her commitment to heritage preservation, and her service to AHNB directly. She was a member of the Board of Directors from 2015-2021 and has been on the Built Heritage Committee since 2015, where she is currently serving as Co-Chair. She is a reliable source of sound judgement, and she never shies away from the work that needs to be done. She has supported the preservation of the province's built heritage by writing several compelling and balanced letters of advocacy to municipal and provincial politicians. She has gone even further and participated in meetings with them to discuss the value of threatened heritage buildings and potential alternatives to their destruction. The association and its projects would suffer greatly without her persistent effort and passion for preserving heritage buildings. She always sees things through and does everything in her power to ensure our success.
She also recognizes the importance of creating a network of allies and pursues opportunities to create formal and informal partnerships, which has let to fruitful collaborations between us and the Covered Bridges Conservation Association of New Brunswick, the National Society for the Preservation of Covered Bridges in the U.S., the international experts in wood construction Wood Research and Development, and many local heritage organizations across the province. Sherry's keen interest in promoting the preservation of heritage in our rural areas has led her to take specific action to protect our covered bridges, recognizing that they are important icons that draw in tourists to our smaller municipalities. From this passion she conceived the idea behind "Love Your Covered Bridges Days", an annual event that has seen increasing success in the 5 years since its implementation. She is also active within the Inventory Project, from helping to develop the criteria for the inventory, promoting it to other communities and at our conference, and compiling entries on behalf of the village of McAdam. Sherry is a hard working and devoted individual who works tirelessly to serve our common goal, and her Award of Merit is well deserved given her extraordinary contributions to heritage preservation in our province.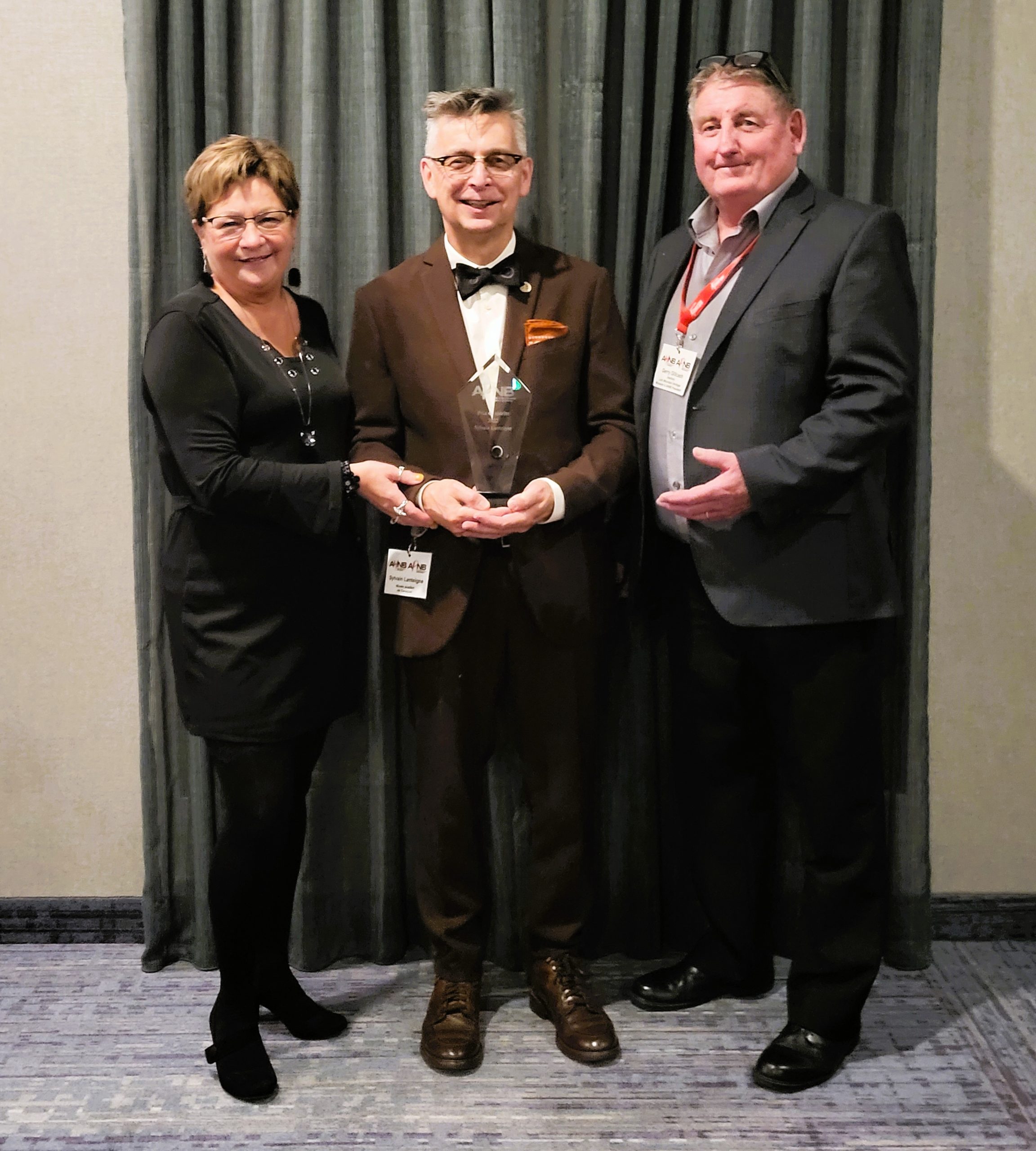 Sylvain Lanteigne – Award of Merit
The Award of Merit is presented to Sylvain Lanteigne, the Director of Musée Acadien de Caraquet, for his many years of dedicated service to heritage preservation efforts in northeastern New Brunswick. Sylvain is widely regarded as an incredibly competent, knowledgeable, and friendly professional with a passion for heritage conservation and education. Sylvain has been director of the Musée Acadien de Caraquet for thirty years, and during that time he has demonstrated excellence in management, design, and promotion of the museum and its exhibits. He has also served as the secretary of the Northeast Museum Network since 2018 and is revered for his good humor and diligence. His colleagues know they can go to him for the sound, practical advice that only many years of conscientious experience can provide.
Every summer for the past 25 years, Sylvain has singlehandedly assembled and presented a temporary exhibit that showcases part of the museum's extensive collection and the history of the region, to the delight of visitors and residents of the area. Recently this exhibit has covered pertinent topics like the Sainte-Anne-du-Bocage Sanctuary, the 1950 Eucharistic Congress, and local artist Marie-Louise Allard Blanchard. Through his work, Sylvain has demonstrated unrelenting passion for his community and its history, and his dedication has resulted in significant contributions to the preservation of artifacts and the history of Caraquet. To honor his dedication to both his community and the advancement of heritage conservation in Northeast New Brunswick, AHNB is pleased to present him with the Award of Merit.