August 5,6, & 7, 2023
6th Annual Love Your Covered Bridges Days in New Brunswick
This year, the Association Heritage New Brunswick will sponsor another celebration for these iconic landmarks, located in some of the most picturesque areas of the province. Take a photo of yourself at one of New Brunswick's historic covered bridges & you could win a prize!

Click here for more information….

                                                   
Videos:
Check out this informative video created by Lawren Campbell in 2020: Love Your Covered Bridges Days!

The Sawmill Creek Covered Bridge is featured in this 2022 video by Lawren Campbell:

Love Your Covered Bridges Days!
Here is the link to the 2023 Video! Don't forget to turn your speakers on!

Many thanks to AHNB's Lawren Campbell for writing and producing this amazing video and to Luke Alexander Bailey for providing the drone footage.
________________________
York County Covered Bridges Blog
I left Saint John on June 30, 2020, with friend, Janet, on a planned trip to visit the two covered bridges in York county. We stopped to pick up our mutual friend Frank, who lives in Fredericton. We headed north on the Trans Canada Route 2. Janet had googled directions and after we had followed them for a bit, we came to a place where the road was temporarily closed due to roadwork construction. We backtracked to follow directions that I had and fared no better, got totally lost. We stopped and asked a young boy working in a garage if he knew where we should go and he sent us back south down the highway. With the combined directions from the Department of Transportation and the use of Frank's cell phone navigation, we finally arrived at EEL RIVER#3 (Benton) bridge. Read More…
_________________________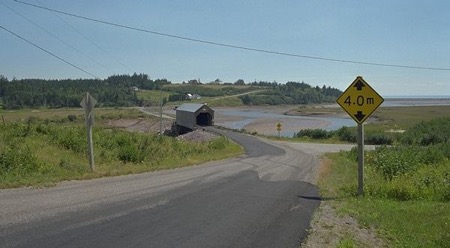 St. Martin's Covered Bridges Blog
I left Saint John on a foggy morning around 10:30 to re-visit the 3 covered bridges of Saint John County.  I went to St. Martins by way of  the coastal route. It is a very scenic drive.  I took route 1, Exit 137A-B, Route 111 east and then route 825 south. Along the route, near  Gardner Creek, there is Moore's. They sell artwork by the local artist, May Moore, and offer a large display of antiques, vintage, and retro items and as well as ice cream. The shop is located at 1254 Route 825, Gardner Creek. When you come to Coleraine Road , turn onto Coleraine Road, onto Tynemouth Creek Road where you can drive right through the Tynemouth Creek covered bridge. Read More…
_________________________
Covered Bridges Blog
I have been interested in the built heritage of Saint John in particular but also of historic places in New Brunswick for more than 50 years. Covered bridges are a part of that built heritage. The province once boasted 320 covered bridges, some dating back to 1900. The latest bridge to go was lost in a flood in 2014, but 58 are still standing today. When the pandemic hit and we were supposed to stay at home as much as we could, I decided to make visiting all 58 of existing covered bridges in New Brunswick a goal for the summer since we are encouraged to help tourism in Atlantic Canada by getting to know our area. Read More…
_________________________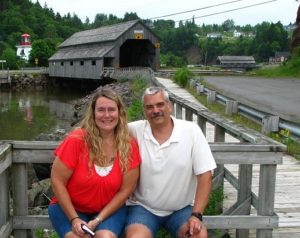 Covered Bridges Conservation in New Brunswick

By Bill Caswell, National Society for the Preservation of Covered Bridges 
New Brunswick's covered bridges have been receiving a great deal of attention lately. While this is fantastic news for the historic preservation community, it resulted from two unfortunate losses. The French Village (Hammond River #2) Bridge in Kings County was removed in 2017 and the Bell (South Oromocto River #3) Bridge in Sunbury County was badly damaged by high water and ice and removed in January 2018. New Brunswick's historic covered bridges are not only a vital component of the transportation network, they are also an important part of its heritage and too many have been lost in recent years. In addition to their heritage value, they provide an economic benefit by attracting tourists to the communities near these structures. Read more….
_________________________
Covered Bridges Conservation Association of New Brunswick Inc. was formed in 2018 to preserve, repair and protect New Brunswick's timbered treasures. Covered Bridges are an icon in New Brunswick and this Association's quest is to make them Heritage sites and have them protected permanently.
Join us on Facebook!
_________________________

Press Release
Fredericton, Canada — July 31, 2019 – Plans for the second annual "Love Your Covered Bridges Day" on August 4th have been announced by Association Heritage New Brunswick.  "The concept of 'Love Your Covered Bridges Day' is simple," says Marion Beyea, President of the organization.  "We are encouraging people to visit one or more of the provinces covered bridges.  And what better time to do this than on a holiday that celebrates all things New Brunswick."