Queens County Heritage – Loomcrofters Studio Museum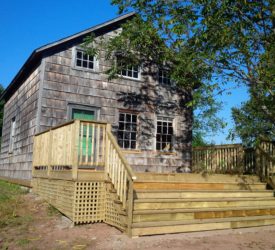 The oldest building still standing in New Brunswick, the c.1761 studio was originally built as a British military trading post.  Over the years it served as a farm shed until 1945 when it became the home of the world renowned Loomcrofters Studio, a Hand Weaving studio, under the direction of Patricia Jenkins.
The Loomcrofters studio became famous for its design and production of tartans including the Royal Canadian Air Force Tartan, the New Brunswick Tartan, the City of Fredericton Tartan, Town of Oromocto, Lions Club, Kinsmen and more.
When the business closed in 2013, the weaving studio, tools and equipment, remaining products and business archive were donated to Queens County Heritage.  In December 2014 the building was moved to the grounds of the Tilley House and underwent restoration in 2015.  Now completed and interpreted as a museum. Visit our website for more information.
Notes: Admission: Each site is $3.00, two for $5.00, three for $7.00 and all four for $9.00. You get one free if you visit all four. Children under 12 are free.
Four sites: Tilley House, Loomcrofters, Queen County Court House and Anthony Flower House.

Open mid-june to mid-september

May, October and November
by chance or by appointment

Twitter @QCHeritage
| Monday | Tuesday | Wednesday | Thursday | Friday | Saturday | Sunday |
| --- | --- | --- | --- | --- | --- | --- |
| 10-5 | 10-5 | 10-5 | 10-5 | 10-5 | 10-5 | 10-5 |
69 Front Street, Gagetown, NB, E5M 1A4
506-488-2483
« Previous