I have been interested in the built heritage of Saint John in particular but also of historic places in New Brunswick for more than 50 years. Covered bridges are a part of that built heritage.
The province once boasted 320 covered bridges, some dating back to 1900. The latest bridge to go was lost in a flood in 2014, but 58 are still standing today.
When the pandemic hit and we were supposed to stay at home as much as we could, I decided to make visiting all 58 of existing covered bridges in New Brunswick a goal for the summer since we are encouraged to help tourism in Atlantic Canada by getting to know our area. I started by going to the NB Department of Transportation's website under the heading covered bridges where helpful directions are found for all covered bridges separated by county. So far, I along with friends, Janet and Kathy, have made two one day trips. One to Saint John county bridges and the other to King county.
On Thursday, June 25, 2020, I decided we should try to find at least 10 of the covered bridges in Kings County. According to the NB government, Kings County is the covered-bridge capital of Atlantic Canada. My plan was to start at Saint John and go off Route 1 at each of the exits suggested on the government site until we got to Sussex.
Darlings Island Bridge:  The first was close to Saint John. Exit 141, to route 119 then route 100 north to Station Loop Road onto Darlings Island Road. This bridge is not in service but a good walk through.
The next exit was # 158. Follow route 100 west Then onto Lakeside Road then onto route 860 east onto to Damascus Road. This route leads through hills and valleys to  Hammond Bridge # 3 (Smithtown). You need to drive through the bridge where there is a very small parking area where people can park and go to the river for a swim. There were several families enjoying the hot day and a cooling paddle in the river. Along the river were huge masses of lupins. Really beautiful. The photo below is submitted by Janet. The large field of lupins is the purple blur that you can just manage to see in the middle of the picture. During the entire day we saw lupins in bloom along the highways, in ditches, beautiful blooms all over the countryside.
_________________________
Norton Moosehorn Creek
Location: Norton, Hwy 1, NB, follow signs to covered bridge trailhead, 3.5 km southwest of village
GPS: 45˚36.74 'N; 65˚43.13 'W
Access: accessible dawn until dusk, free
Geological Age: Lower Carboniferous 350 Million years old
Features: trail, covered bridge
MOOSEHORN CREEK
This small stream flows into the Kennebecasis River from the south. A covered bridge built in 1915 Moosehorn Creek crosses. The bridge can be accessed along a trail that crosses under Highway 1. The trailhead and parking is located 3.5 kilometers southwest of Norton along a dirt road. The bridge was built seven years after the first fossils were discovered here by geologists from the Geological Survey of Canada.
This area hosts the fossil remains of almost 700 standing trees, making it the oldest "forest" in Canada. The 355-million-year-old rocks containing the trees are steeply tilted, exposing the trees end-on; ian. Extinct Palaeoniscid fish and trace fossils have also been discovered here. (text and photo from Stonehammer web site) There are interpretation panels on site that explain the geology of the area.
This area of ​​New Brunswick is well-known for its covered bridges. Bridges were covered to protect them from rotting. You might want to tour covered bridges and observe the geology near them. There are ten covered bridges in Stonehammer Geopark and this is one of the nicest.
It was lunch time so we headed to Sussex Corner and stopped for lunch at The All Seasons restaurant at the far end of MainStreet. It had just recently re-opened for dining in, masks were worn by staff, seating 6 feet apart, limited number of people to a washroom, all ready for pandemic dining. We picked up a map there of Sussex and surrounding areas so it was a bit easier to find the four bridges that were off route 1 at exit 198. South were Ward's Creek # 2 (MacFarlane),  Trout Creek # 5 (Moore's Mills)   The Dutch Valley has great scenery, great fields, and is very scenic.
Trout Creek # 4 (Urney): Route 1, Exit 198, Route 111 south for 4.2 km (2.6 mi.), Dutch Valley Road (Waterford Road) for 5.5 km (3.4 mi.), On to Urney Road. Built in 1905. Length 20.1m (66 ')

Kennebecasis River #7.5 (Salmon): Route 1, Exit 195, on to Route 890 north for one km (0.6 mi.). (Not in Service) Built in 1908. Length 34.2m (112′ 2″)
Millstream River #5 (Centreville): Route 1, Exit 193, Route 10 north (west) for 8.3 km (five mi.), Route 880 north for 3.2 km (1.9 mi.), on to Pleasant Ridge Branch Road. Built in 1911. Length 28.9m (95′)
Smith Creek #1 (Tranton): Route 1, Exit 193, north on to Roachville Road for 2.6 km (1.6 mi.), at Roachville, near Sussex. Built in 1927. Length 36.7m (120′ 6″)
We took the scenic route down route from Sussex to Belleisle Creek by heading along route 1 to Apohaqui, to route 880 north to rte 875 O'Neill Road, to rte.870 to Belleisle Creek.
Belleisle Creek #2 (Marven): Built in 1903. Length 21.6m (71′)
Then to rte. 870 to Springfield , to Rte.124 to 856 to rte. 121 to Bloomfield  and then cross the bridge to Route 1 and back to Saint John.
Bloomfield Creek: Built in 1917. Length 44.5m (146′)
By visiting these covered bridges, it is easy to see why New Brunswick is known as the picture province.  Some of these bridges are along roads that are off the beaten track, the scenery is beautiful and rural, there are hills and valleys and the bridges cross picturesque creeks and streams and narrow rivers. It is a delight to come across them.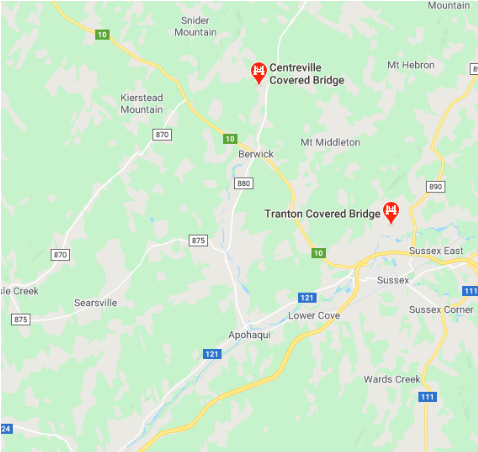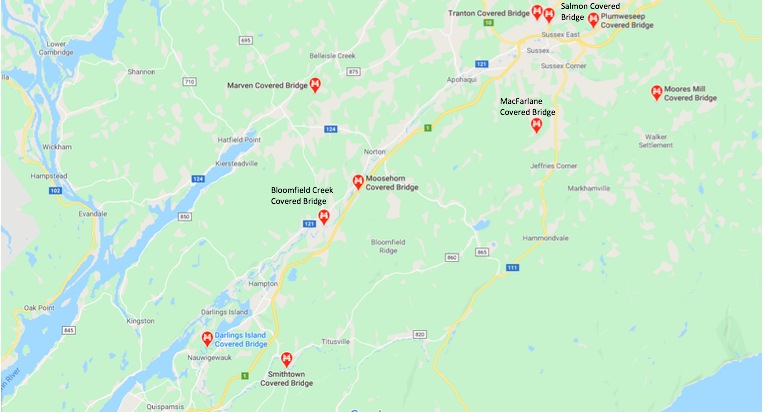 Museums to Visit After Exploring the Covered Bridges:
Kings County Museum
The Kings County Museum and Archives is located in scenic Hampton, New Brunswick. Visitors can visit the Old County Gaol (jail), experience themed exhibits, uncover the past through heritage, and do genealogy research. The museum also offers heritage workshops for students and a regular schedule of guest lectures on a huge range of topics.
Hours of Operation: Tuesday – Saturday 10am – 4pm
Phone: (506) 832-6009
8th Hussars Museum
The 8th Hussars Museum collects, preserves, and interprets the history of the 8th Canadian Hussars (Princess Louise's), other military units and Camp Sussex including many local veterans. Located in the historic Train Station in Sussex, NB where countless soldiers arrived by rail to train at Camp Sussex and later to serve in the South African War, WWI and WWII. The building has been restored to its original grandeur and is situated in the hub of the Town.
Hours of Operation: Tuesday – Sunday 9am – 7pm
Phone: (506) 433-5226
Agricultural Museum of New Brunswick
The Agricultural Museum of New Brunswick was founded by members of our agricultural community to let others know about our province's farming history and pride in its rural roots. The museum consists of a main building, a Blacksmith's Shop, a Railway Gate House and the former Apohaqui Train Station.
Hours of Operation:  Tuesday – Sunday 9am – 5pm
Phone: (506) 433-6799
John Fisher Memorial Museum:  Closed for the 2020 Season due to COVID-19.
Carter House Tea Room: Closed for the 2020 Season due to COVID-19.
Consider bringing a picnic lunch or check out the various restaurants in the surrounding area to make visiting the covered bridges in Kings County an all day experience!