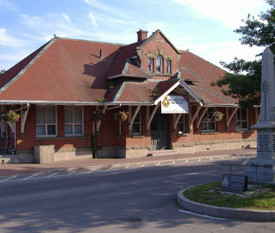 The 8th Hussars Museum collects, preserves, and interprets the history of the 8th Canadian Hussars (Princess Louise's), other military units and Camp Sussex including many local veterans. Located in the historic Train Station in Sussex, NB where countless soldiers arrived by rail to train at Camp Sussex and later to serve in the South African War, WWI and WWII. The building has been restored to its original grandeur and is situated in the hub of the Town . The Museum features items representing the life of the Regiment with original uniforms dating back to 1881, original Routine Orders dating back to 1893, memorabilia from members who represented the Regiment at Queen Victoria's Diamond Jubilee, WWI, WWII, UN/NATO peacekeeping tours as well as the Afghanistan engagement.
The museum commemorates the First World War (also known as the Great War) with a special display marking the events of 1914, 1915, 1916, 1917 and 1918. It places the participation of members of the 8th Hussars and other New Brunswickers into the battles fought by the Canadian army in France and Belgium.
2022 Hours of Operation: Open 14th of  June to the 4th of September, (10:00 AM  to 6:00 PM), Wednesday to Sunday.
66 Broad Street, Sussex, NB E4E 5S2
506-433-5226

« Previous