Maison Doucet Hennessy House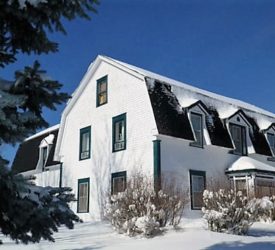 Local and Provincial Heritage Building circa 1850
The Maison Doucet Hennessy House is a local and provincial heritage building is believed to have been built by Acadian pioneer, Charles Doucet on the site of the original Doucet Land Grant (1807).
The working farm and homestead was occupied for the first 100 years by the Acadian Doucets and for the last 100 years by the Irish / Scottish Hennessys.
It is currently owned by the charitable organization Association Maison Doucet Hennessy House Association Inc. with a mission to preserve, maintain and restore the heritage building.
Hours of Operation
Tuesday, Wednesday, Saturday
1PM-4PM
Friday
7PM-9PM
Off-season by appointment only.
375 St Peter Avenue, Bathurst, NB, E2A 2Y4
(506) 440-4567

« Previous