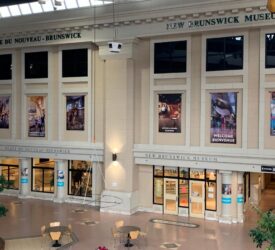 The New Brunswick Museum Exhibition Centre will be closed until further notice.
The NBM Boutique is open Monday through Saturday 10 am to 5 pm.
New Brunswick's provincial museum and Canada's oldest continuing museum. Our galleries at the New Brunswick Museum Exhibition Centre, located at 1 Market Square, Saint John, provide access to a wide array of New Brunswick stories including giant marine mammals that inhabit the waters off the province's shores; long-extinct creatures fossilized in the rocks underfoot; masterworks created by artists and artisans; and stunning achievements from Golden Age of Sail. An active program of temporary and touring exhibits complements the feature galleries. There's something for everyone at the Museum!  Visit the Boutique and take a little bit of New Brunswick home with you with works of over 40 New Brunswick and Maritime artisans.
The New Brunswick Museum Archives and Research Library and Collections and Research Centre are located at 277 Douglas Avenue, Saint John. Both the library and archival holdings complement the artifact and specimen collections of the New Brunswick Museum and are used extensively by museum staff, genealogical researchers, students, scholars, and the general public. Knowledgeable and helpful staff will guide you through your research discoveries including family history. At the Collections and Research Centre staff and research associates are involved in a wide variety of research programs relating to our extensive collections. 
Follow us on Facebook, Twitter, and Instagram and visit our website www.nbm-mnb.ca to plan your visit and stay up to date on events, exhibitions, and activities happening at the New Brunswick Museum and around the province.
Instagram: @nbm_mnb Twitter: @nbmmnb Boutique Facebook: @nbmBoutiquemn
1 Market Square, Saint John, NB, E2L 4Z6
506-643-2300 or 1-888-268-9595

« Previous