Quartermain Earth Science Centre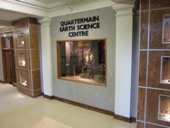 The Quartermain Earth Science Centre highlights the beauty and excitement of geology in the form of exhibits, displays, programs and events. The Centre provides visitors with a geological journey through the planets interior, seismicity, volcanism, structure, economics and evolution of fossilized plants and animals. The Centre is located within the historic Forestry & Geology building at the University of New Brunswick.
Open: Monday to Friday, 8:30 AM to 5:00 PM.
You can also find more information on their website.
2 Bailey Drive, main floor
(506) 458-7205

« Previous