July 4th 2020
I left Saint John on a foggy morning around 10:30 to re-visit the 3 covered bridges of Saint John County.  I went to St. Martins by way of the coastal route. It is a very scenic drive.  I took route 1, Exit 137A-B, Route 111 east, and then route 825 south. Along the route, near Gardner Creek, there is Moore's. They sell artwork by the local artist, May Moore, and offer a large display of antiques, vintage, and retro items and as well as ice cream. The shop is located at 1254 Route 825, Gardner Creek. When you come to Coleraine Road, turn onto Coleraine Road, onto Tynemouth Creek Road where you can drive right through the Tynemouth Creek covered bridge. You can get an excellent photo from the top of the hill before entering the bridge. There is a small parking place just at the entrance to the bridge where you can get out and walk through the bridge. After exiting the bridge by car, you come to an intersection with Shore Road. Before turning towards St. Martins make a right up the road to the top of the hill. This is a great spot for a wider view photo of the bridge. (Kathy's photo)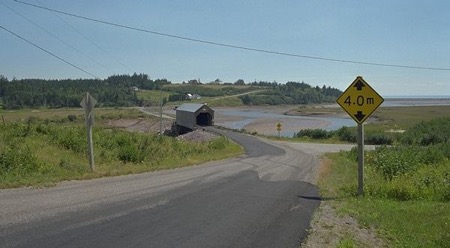 Follow the signs to St. Martins and drive through the village.  Take note of the many different architectural styles of the older homes along Main Street. Stop at the Quaco Museum for a visit. You can book a historic walking tour along Main Street there. Make your way along Main Street to the two remaining covered bridges Hardscrabble #2 (Irish River #2) and Vaughan Creek (Irish River #2), which is not in service.  You could stop here at the Information Centre and also visit small stores nearby.
Make your way to the famous St. Martins' caves. At low tide you can walk along the beach and into the caves. The caves and the layers of clay and sediment are part of the UNESCO Stonehammer Global Geopark. There are interpretive panels on the beach to explain the geological significance of the area.
Across the street from The Cave Restaurant is a used book store with a very large selection of used books. The village boasts tourist companies, art galleries, crafts and antique shops. I had lunch at the Coastal Tides restaurant and made my way home by way of route 111.
Museum to Visit After Exploring the Covered Bridges:
The Quaco Museum:
A community museum with a focus on the shipbuilding heritage and local history of the St. Martins area. Immerse yourself in the halcyon days of New Brunswick shipbuilding and hear the fascinating stories of the men and women at sea in the golden age of sail. The museum explores the rich history of Quaco, St. Martins and the nearby historic shipbuilding community of Tynemouth Creek.
Hours of Operation: Sunday – Wednesday 10am – 4pm 
Phone: (506) 833-4740
Consider bringing a picnic lunch or check out the various restaurants in the surrounding area to make visiting the covered bridges in the Saint John County an all day experience!