Bathurst Heritage Trust Commission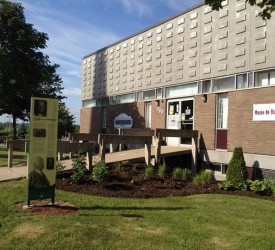 In 2003 the Bathurst Heritage Trust Commission Inc. acquired the Nepisiguit Centennial Library building and immediately created the Nepisiguit Centennial Museum/Cultural Centre, which houses the Heritage Museum, the Nepisiguit Genealogy/Archives, as well as the Multicultural Association of the Chaleur Region.
The artifacts, including photos, archives, genealogical documents, and histories of the native aboriginal culture, represent the general life of the people of the region in the early days.
There is no precise theme running through the Bathurst Heritage Trust Commission museum, but the past comes alive for many visitors, both local and from away, as they tour.
You can check out their website for more information.
Open June, July and August: Monday – Friday 9:30AM to 4:30PM.
360 Douglas Avenue, Bathurst, NB, E2A 4S6
506-546-9449

« Previous