Bathurst Heritage Trust Commission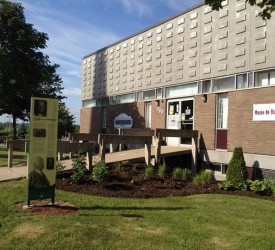 In 2003, the Bathurst Heritage Commission acquired the Nepisiguit Centennial Library building in which the commission immediately created the Nepisiguit Centennial Museum/Cultural Centre as well as the Museum of Heritage, Genealogy, the Nepisiguit Archives and the Multicultural Association of the Chaleur Region. The artifacts represent the life of the region over several years. Photos, archives, genealogical and historical documents of Aboriginal culture as well as the daily life of the people of the region at that time can be seen. There is no specific theme but the museum will bring the past to life for the many visitors from the region and outside. 
The museum is open every day during the summer months and by appointment during the other seasons. Visitors who have art collections are invited to display their collections. Admission is free but a donation would be greatly appreciated. We have for sale in our shop, small souvenirs and postcards. We also have books by author Allie McCarthy and collections of remedies and historical recipes. The Nepisiguit Gallery is open year-round to artists and craftsmen.
Hours of Operation (June 1 to August 31)
Monday to Friday from 9AM to 4PM.
Hours of Operation (September 1 to May 31)
Monday to Friday from 1PM to 4PM.
360 Douglas Avenue, Bathurst, NB, E2A 4S6
506-546-9449

« Previous