Pascal-Poirier Historical House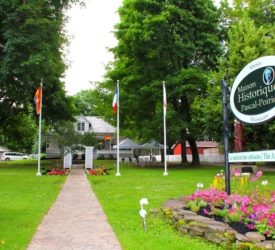 The Pascal-Poirier Historical House / ARTISANS' HOUSE
Information:
Opening from June to September
Tuesday – closed
Admission – FREE
The Pascal-Poirier Historical House , built in 1825, was once called the Villa of Roses. The Pascal Poirier House is the oldest home in Shediac. The restored ancestral home of Senator Pascal Poirier allows visitors to glimpse into the past and get a feeling of how a middle class family lived at the beginning of the 19th century. Senator Pascal Poirier (1852-1933), the first Acadian politician appointed to the Senate.
In 1972, Pascal Poirier at the young age of 20 years old, is appointed Postmaster of the House of Commons by Sir John A. MacDonald. Pascal Poirier was a historian, a businessman, an attorney, a politician and a Man of Letters. He was knighted "Chevalier de la Légion d'honneur de la République française". He was one of the founders of La Société nationale l'Assomption, which today is recognized as La Société nationale des Acadiens. Pascal Poirier was appointed to the Senate at the age of 33 and was hailed as the defender of the Acadian cause.
399, rue Main, Shediac, NB
506-532-7022

« Previous