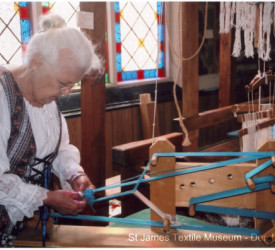 The St James Textile Museum is located in a graceful wooden frame church (1884) is home to turn-of-the-century blacksmiths' tools, a working foot lathe, antique hand tools and unique tools once used to make hay and thrash wheat.  The collection is known at the Beachkirk Collection and was assembled by Pam Black, a local artisan who had a weaving studio in a church near the beach at Upper Cape.  The collection includes in insightful look in to making textiles in the late 1800's.
Exhibits cover all the processes and equipment used in making fabrics, from cutting the flax to producing the linen, and from shearing the sheep to carding, spinning and weaving the wool on antique looms.
Demonstrations on carding, spinning and weaving on the antique looms are another popular feature at this museum. Check the museum's website for special events, exhibits and or workshops.
(506)379-6633

« Previous