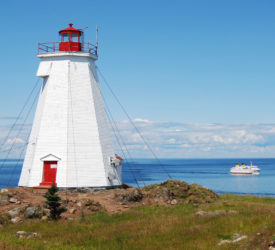 As you approach Grand Manan Island by ferry, Swallowtail Lightstation greets you. The wonderful panoramic view of the coastline coupled with this historic, old wooden lighthouse makes it a perfect setting for photographers, artists and sightseers. This is a definite "must-see"!
Swallowtail is one of the most photographed lighthouses in New Brunswick. Interpretive panels, fog bell, commemorative deck, lovely wooden benches and picnic tables are on site. Access to the lighthouse is down a flight of 54 stairs, across a wooden footbridge and along a gravel path, but the lighthouse can also be viewed from an observation area near the parking lot. A Welcome Centre is located at the entrance and houses a small gift shop. For a small fee, tour inside the lighthouse museum in the summer and include access to the new lighthouse museum including climbing the stairs to the top of the lighthouse. You can easily walk between the lighthouse and keepers house on a boardwalk built in 2014, just like the keepers did for years. For a small fee, tour inside the lighthouse museum in the summer which includes access to the new lighthouse museum and climbing the stairs to the top of the lighthouse.
Established in 1860 (pre-Confederation), altered in 1980 and restored in 2013-2014, this active lighthouse still has its original tower, one of only a handful of remaining wooden light towers in Canada and has been recognized by the Federal Heritage Building Review Office. Now owned by the Village of Grand Manan, the property is managed by the Swallowtail Keepers Society, who has been carefully restoring the property and lighthouse.
This is an excellent spot to watch the sunrise, see the ferry as it passes by, or to check out the interesting rock formations. You can also have a good look at the herring weirs (fish traps located below the rock cliffs). Watch for seals, harbour porpoises, whales and seabirds. A bald eagle or peregrine falcon may also fly by.
You can also apply to become a volunteer light keeper, living in the keepers house and helping with general maintenance and repairs, working in the gift shop and museum and developing programs. Available from May through October, it can be part or all of this period. The house may be shared with those pursuing creative endeavours through our Keepers in Residence Program. Your efforts will be truly rewarding given the amazing location and appreciation of the site by all who view or visit it.
50 Lighthouse Road, Grand Manan, NB E5G 2A2
(506) 662-1100